HIGH PERFORMANCE LINEAR ACTUATORS
OFF THE SHELF OR BUILT TO ORDER
Parallel Mount Linear Actuators
Smallest reverse parallel mount actuator offered by Ultra Motion.
Very high power density, ideal for weight and size constrained applications such as aerospace and robotics.
Contact Us To Configure
Fits NEMA 17 frame motors and a variety of DC brushed motors.
Ideal for high performance, long life, economical actuation systems.
Timing belt ratio up to 5:1
Fits most NEMA 23 frame motors.
Timing belt ratio up to 4:1
Extends speed and force capability of Series B2.
NEMA 23 frame size
Capable of up to 450 lbs of force
Integrated Linear Actuators
Integrated Steppers
Using internal encoders, integrated stepper motor actuators achieve enhanced performance, higher efficiencies and prevent loss of synchronization (stall).
The I1 series of actuators are programmable and can be configured to operate with CANopen, Ethernet, Profinet, and step and direction systems.
We offer Lexium MDrive and Applied Motion NEMA 17 and NEMA 23 frame size integrated stepper motors with our actuators.
Contact Us To Configure
Integrated BLDC
We offer ClearPath motors on our actuators for a high power density, simple to use actuator ideal for digital systems and BLDC replacements to existing Stepper Motor systems. These actuators have built-in limit switch and hardstop homing routines.
We also offer NEMA 17 and NEMA 23 Smart Motors, which offer full programmability, analog signal compatibility, and industrial network protocols such as CANopen and Ethernet. These actuators can be programmed for limit switch homing, hard-stop homing, or for motionless homing using Ultra Motion's internal potentiometer.
Underwater Linear Actuators
NEMA 23 frame size
Capable of up to 450 lbs force
Specialty Linear Actuators

Normal operation down to 77 K.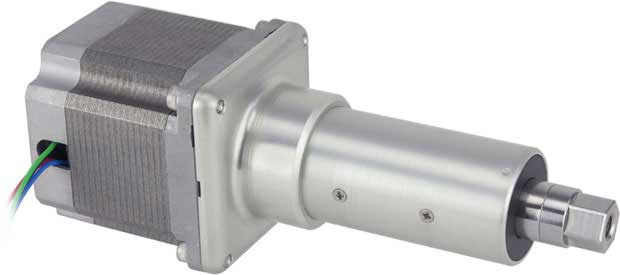 Designed for low out-gassing in vacuums to 10-6 Torr.