T-Series
T3 Series Rotary Servo Actuator
Overview
T3 Series Overview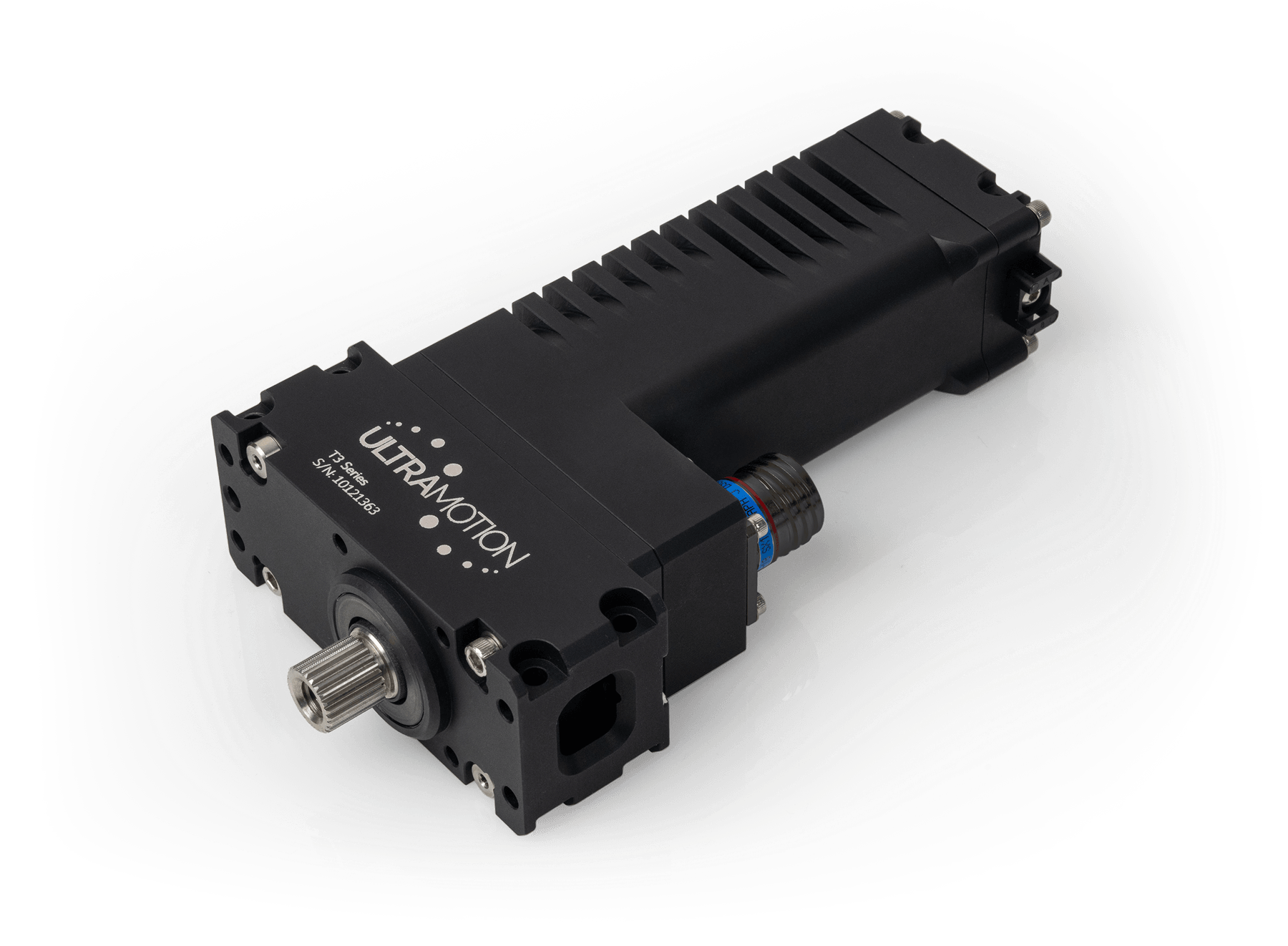 The T3 Series Rotary Servo Actuator is an advanced electromechanical actuator equipped with integrated brushless DC control electronics and contactless absolute position feedback. Its design focuses on dynamic operation in the most demanding environments, utilizing durable mechanical elements, top-tier materials, and best-in-class components.
At its core, the T3 Servo Actuator is powered by a high-power density Brushless DC (BLDC) motor, which is paired with a planetary gearhead to generate high torques in a compact package. This motor and gearhead assembly links to the servo's output via a large spur geartrain for increased reliability.
Unlike the common industry practice of using compound spur gear trains, our unique gearing setup enhances the actuator's capability to handle high transient loads without succumbing to structural failures.
Typical applications:
Uncrewed Aerial Vehicles

Swashplate and tail-rotor control
Fixed wing control surfaces
Utility Actuation

Uncrewed Surface Vehicles

Rudder control
Accessory deployment

Applications requiring dynamic and robust servo actuation in harsh environments
Features:
Contactless single turn position feedback of the output shaft
Built-in brushless DC control electronics

Control options including CAN 2.0B, RS-485 serial, or RC PWM(optically isolated)
Feedback includes absolute position, motor phase current, temperature, bus voltage, humidity, and actuator health
10 VDC to 48 VDC operating voltage range (60 VDC absolute max)

40°C to +100°C operating temperature range

Self-heating functionality will be available for lower ambient temps

Robust mechanical components for high peak load tolerance and reliability
High power density with extremely dynamic motion capabilities
D38999/20ZB35PN connector
IP67 sealing
Fully conductive hardcoat anodized aluminum housing for EMI/EMC protection
17-4PH H1100 output shaft
continuous rotation output shaft, electronically limited travel
Tech Specs
Tech Specs
Specifications
Operating Voltage
10 to 48 VDC
Absolute Maximum Voltage
75 VDC
Operating Temperature Range
-40 °C to +100 °C
Mass
2.65 lbm
Allowable Rotation
360° electronically limited
Continuous rotation modes possible
Peak No Load Speed @ 28 VDC
500 °/s
Continuous No Load Speed @ 28 VDC
310 °/s
Continuous Torque
108 in-lbf
Intermittent Torque
132 in-lbf
Peak Torque
170 in-lbf
Unpowered Backdrive Torque
10 in-lb
Nominal Backlash
0.6°
Communication Protocols
CAN 2.0B, RS-485 Serial, RC PWM
Environmental Sealing
IP67
Performance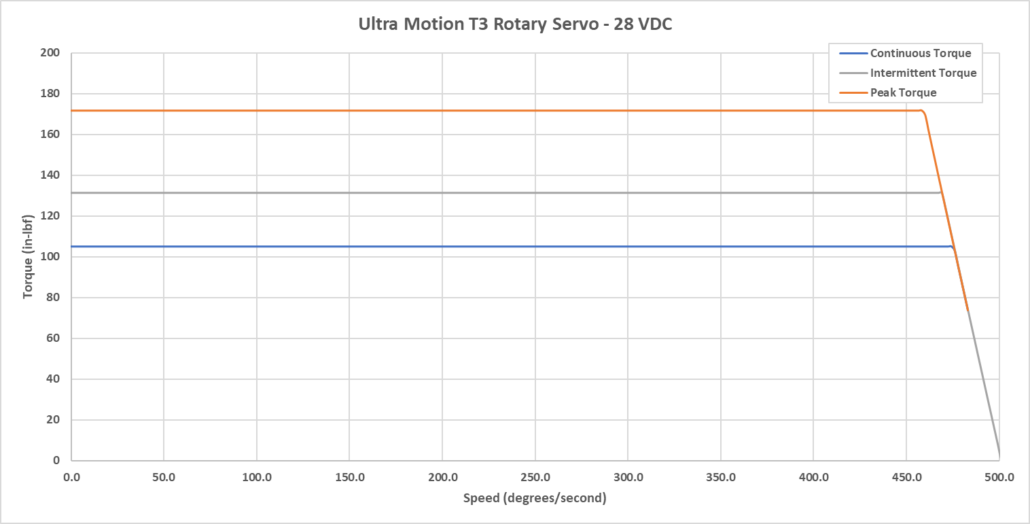 Continuous Torque: 100% duty cycle assuming 25°C ambient and natural convection
Intermittent Torque: 20% duty cycle
Peak Torque: Non-repetitive peak load capability without impacting service life
T3 Series Actuator Electrical Interface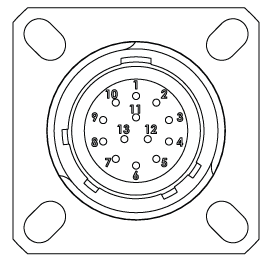 | Pin No. | Function | Flying Lead Color (CBL-T3-DEV) |
| --- | --- | --- |
| 1 | CAN_L | BLUE |
| 2 | GND | TAN |
| 3 | GND | SLATE |
| 4 | V+ | PINK |
| 5 | V+ | VIOLET |
| 6 | DGND | ORANGE |
| 7 | RS-485 A | RED |
| 8 | RS-485 B | BLACK |
| 9 | DGND | WHITE |
| 10 | CAN_H | GREEN |
| 11 | OPTO COMMON CATHODE | BROWN |
| 12 | OPTO 1 ANODE | YELLOW |
| 13 | OPTO 2 ANODE | N/C |
| SHELL | CHASSIS | DRAIN |
Table 2: Pin numbers, functionality, and standard cable wire colors for T3 series actuators. Note that the "SHELL" pin refers to the metal connector casing.
Accessories
Accessories
CBL-T3-DEV Cable Set
Development Cable Set: 10 foot length PVC cable terminated with 6″ flying leads, all pins populated. D38999/26FB35SN with M85049/38-11N strain relief backshells.