Industrial Linear Actuators
Compared to hydraulic and pneumatic systems, electromechanical actuators can be controlled more precisely, present less environmental and workplace hazards, and reduce maintenance related downtime. Over the years, Ultra Motion has developed solutions for assembly lines, conveyor systems, hydraulic/pneumatic system replacements, and more. Please contact our engineering staff to discuss expanded capabilities and custom actuators.
Performance and Engineering Capabilities:
Industrial Network Protocols including CANopen, Ethernet, DeviceNet, and Profibus are available
Low maintenance, high reliability actuators reduce overall system cost
Enhanced life to tens of millions of inches of travel
High efficiency motors for reduced system power consumption
IP rated actuators for harsh environments
Contact Us To Discuss
Your Application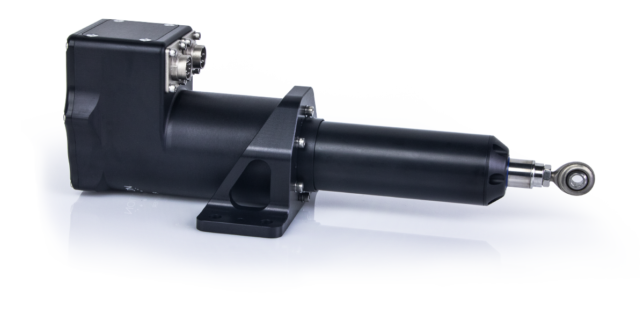 Ultra Motion Integrated actuators were used in life testing of engines and transmissions. The 8" stroke actuators were required to operate continuously at 115 lbf, achieve 14 in/s at less than 50 lbf, and have an L10 life of 20 million inches of travel. Maximum capabilities include a no load speed of 21.7 in/s and maximum burst force of 270 lbf. These actuators were delivered with custom cabling and individually calibrated motionless homing potentiometer firmware to eliminate intolerable homing sequences.